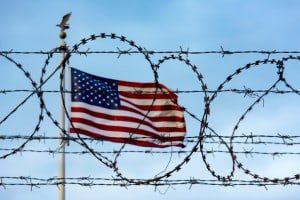 At the end of February, U.S. Immigration and Customs Enforcement (ICE) agents conducted raids and arrested more than 150 people in the San Francisco Bay area who were reportedly in violation of federal immigration laws. A story on CBSNews.com reports that about half of the individuals arrested in the raid had past criminal convictions in addition to their immigration violations. Some of the criminal convictions allegedly included assault and battery, crimes against children, weapons charges and DUI. In fiscal year 2017, ICE arrested 20,201 undocumented individuals with 81 percent being individuals with criminal convictions.
In the CBS story, San Francisco Mayor Mark Farrell said, "San Francisco is and always will remain a Sanctuary City. We have made it clear to the Trump administration that San Francisco's Sanctuary City laws are in compliance with federal law."
ICE Deputy Director Thomas D. Homan said that sanctuary jurisdictions like San Francisco and Oakland shield dangerous criminal aliens from federal law enforcement at the expense of public safety. He also criticized Oakland Mayor Libby Schaaf for issuing a warning prior to the start of the raids. Schaaf stood by her actions, but some say that the warning she gave ahead of the raids was reckless and might have been illegal. (CBSNews.com)
Of the raids, ICE reports that some of the individuals who were arrested will face criminal prosecutions of illegally entering the country, and illegal reentry after they were deported. Those who will not be criminally prosecuted will be subject to immediate removal from the United States.
To heighten the drama between the Trump Administration and the state of California, the U.S. Department of Justice has filed a lawsuit against Governor Jerry Brown and state Attorney General Xavier Becerra claiming that three recently passed laws make it impossible for federal immigration officials to do their job, that the laws are unconstitutional, and they have asked a judge to block them.
On one side of the lawsuit, there is President Trump and U.S. Attorney General Jeff Sessions with their hardline positions on immigration; on the other is Governor Jerry Brown and state Attorney General Xavier Becerra, who have a firm commitment to the progressive values for which California is known.
Both sides will air their differences in court, with each side determined to prevail. It will be a showdown between the two Americas: the one that wants to build walls to keep "others" out, and the one that wants to build bridges and find a way for all of us to work together to create a country and a society of which we can all be proud.
Mayor Darrell Steinberg of Sacramento said, 'I'm worried about the "Dreamers,' the hard-working immigrant families and law-abiding people who are just trying to make their way like the rest of us. When he was asked about the state's sanctuary laws he replied, "Civil disobedience is a respectful way to show your love for your country."
At the Law Offices of LaFevor & Slaughter, our Knoxville immigration attorneys work diligently to keep immigrants from being deported. You are welcome to call us at 865.272.4454 or complete our contact form to arrange a free consultation. We are dedicated to helping you and your loved ones.