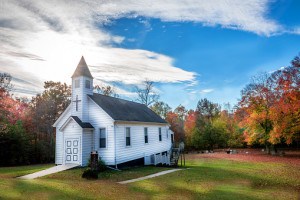 The number of churches willing to provide sanctuary to undocumented immigrants in the United States has been steadily increasing ever since President Trump signed an executive order which strengthening the authority of the U.S. Immigration and Customs Enforcement (ICE). On January 28, 2017, President Trump made good on his campaign promise to take a tough stance on immigration by signing an executive order that expanded the authority of immigration officers and dramatically increased efforts to deport all undocumented immigrants.
While Trump has said that he wants to focus on removing "bad dudes," in a story on CNN.com, this executive order applies to anyone who is living in the United States illegally. Undocumented people can now be detained for removal proceedings if they have been suspected of committing a crime, or if they pose a threat.
Can undocumented immigrants find legal sanctuary at churches?
The short answer is, no. An undocumented immigrant is not safe from deportation just because he or she has sought refuge in a church. But that doesn't mean there aren't some advantages or benefits. Perhaps they feel safer in churches than in their own homes. And we can all appreciate how the optics of an ICE raid to round up people from churches might look; ICE tends to avoid making arrests at sensitive locations such as places of worship. In the end, though, remaining inside of a church building will not shield these people from arrest.
A story in USA Today estimates that the number of congregations willing to provide sanctuary to undocumented people jumped from 400 prior to the election in November to more than 800 in 45 states after the election – and that number continues to rise. While the Edgehill United Methodist Church in Nashville is willing to offer sanctuary and other resources to help immigrants, the Nashville First Church of the Nazarene has said that they would not feel comfortable offering sanctuary, but they will continue to offer other resources and services to immigrants and refugees – a sentiment expressed by Knoxville's own mayor earlier this year.
The sanctuary movement involves more than just places of worship
Throughout the United States there are sanctuary cities and counties, which have established policies or laws that in some way shield undocumented immigrants from the prospect of deportation when they report crimes. These jurisdictions limit cooperation with the federal government about an individual's immigration status. In turn, Trump has signed an executive order that can cut funding to cities that refuse to cooperate with federal immigration authorities. Social action web platform Groundswell reports that more than 6,700 Americans have signed a pledge to open their family homes, churches, schools, hospitals, community centers and college campuses and places of worship to undocumented immigrants who fear deportation.
If you are unsure about the prospects of your immigration case while you are living in the United States regardless of your immigration status these days, you are welcome to contact Knoxville immigration attorney Patrick Slaughter at LaFevor & Slaughter, or call 865.272.4454, to schedule a consultation today. We are here to represent immigrants and their families and we fight to protect their rights when they have been infringed upon.