Efforts Underway to Limit Legal Immigration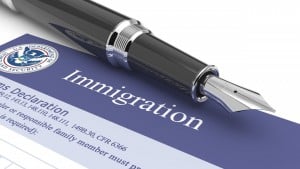 According to a recent NBC News report, the Trump Administration is getting ready to make a proposal that would make it tougher for immigrants in the United States legally to become American citizens, or obtain their green cards. The ability of these legal immigrants to get citizenship could be affected if the applicant used one of the country's public welfare programs, including purchasing healthcare off of the ACA exchange. Other federal programs that could affect the right to citizenship include food assistance programs (like WIC) and subsidized health insurance plans for children (like CHIP).
The plan is part of an effort by the current administration to "limit the number of migrants who obtain legal status in the U.S. each year." Advocates and attorneys for immigrants believe that proposal could affect upwards of 20 million immigrants. The people who would be hardest hit are those immigrant workers who struggle to make ends meet financially.
Currently, legal immigrants who use Social Security Insurance are already impacted in their effort to obtain citizenship. NBC News reports that the proposal could affect immigrant households who earn up to 250% of the poverty level. The proposal has been sent to the Office of Management and Budget for the White House for review.
In one reported example, a Haitian holder of a green card who works 80 hours a week as a nursing aid was required to use a public benefit program for his disabled daughter. His rights could be affected under the new proposal.
The administration argues the proposal is needed to ensure "that foreign nationals seeking to enter or remain in the U.S are self-sufficient."
Some of the current immigration data
In 2016, President Obama's last year in office, 1.2 million immigrants successfully became "lawful permanent residents, or green-card holders, and 753,060 became naturalized U.S. citizens, according to data from U.S. Citizenship and Immigration Services," NBC reports.
The 2018 data for the first quarter indicates a 20% decline in approved green card applications. The number of immigrants obtaining naturalized citizenship for the first half of 2018 is about the same as 2016. U.S. Citizenship and Immigration Services stated that "they expect naturalization numbers to rise in the latter half of the year based on previous trends."
Obtaining citizenship is a lifetime dream for many immigrants. For many, with our legal help, it has become a reality, but that reality may become tougher for many more in the future. Here at the Law Offices of LaFevor & Slaughter, our Knoxville immigration lawyers fight aggressively to help immigrants pursue their dreams. Our lawyers have been helping immigrants for more than 38 years. We understand the current laws and keep current with proposed changes. For help now, please call us at 865-637-6258 or fill out our contact form to make a consultation with an experienced immigration attorneys today.
Related Immigration Articles